Description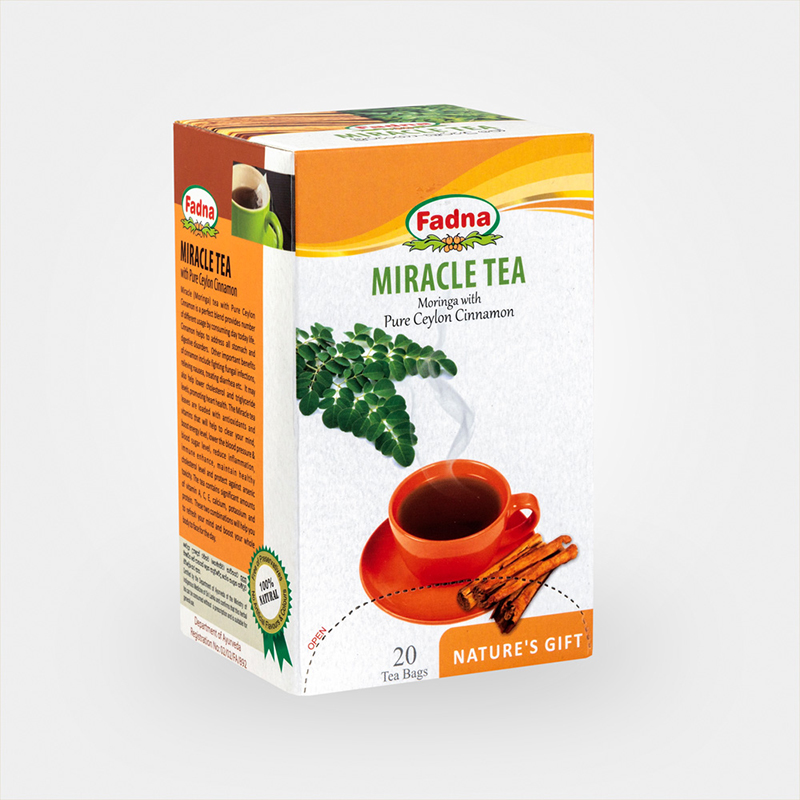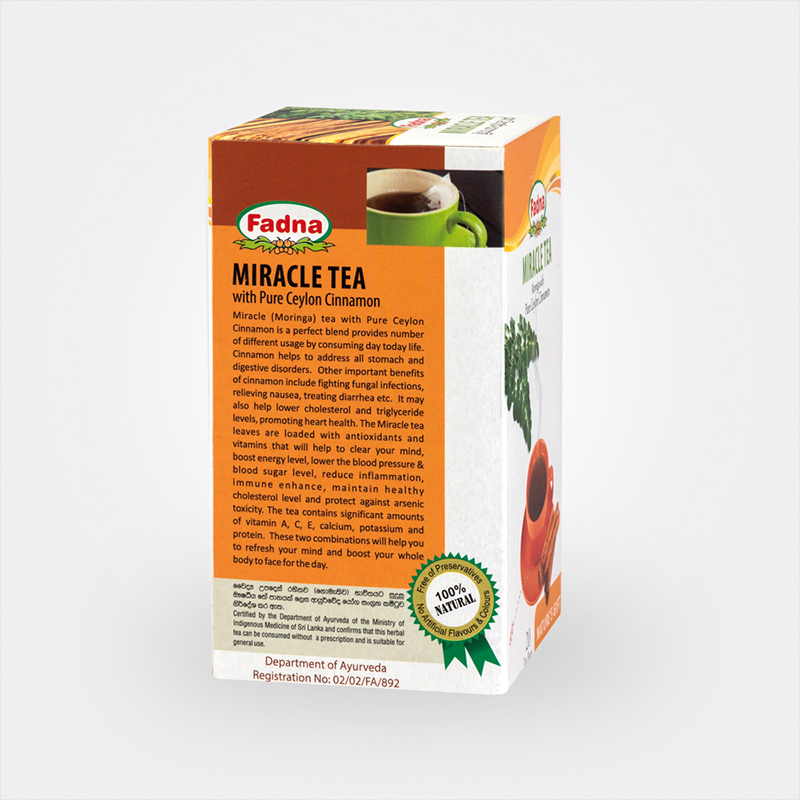 What is Miracle Tea ?
Moringa (Moringa oleifera) together with Ceylon Cinnamon (Cinnamomum zeylanicum) is a great herbal tea supplement, due to it being rich in many vitamins and minerals; while also adding an aromatic twist to enhance the tea experience.
Cinnamon is a rich source of manganese and healthy fibers. Therefore, the high content of vitamins E and C in Moringa combined together with Cinnamon is ideal to improve brain function due to its antioxidative and neuro-generative properties. Both these ingredients have been greatly used to treat various neurological disorders and improve mental health.
Furthermore, this tea which is rich in flavour and has many other benefits like the ability to lower serum cholesterol levels, protect against cardiovascular diseases, repair cell damage, enhance wound healing properties and redefine beauty from within.
Ingredients
Moringa oleifera (Moringa), Cinnamomum zeylanicum (Ceylon Cinnamon)
How it's Work ?
Miracle tea with Moringa and Cinnamon has many medical benefits. Cinnamon contains vital oils and derivatives like cinnamic acid and cinnamaldehyde that acts as a powerful anti-oxidant that possess anti-microbial, anti-diabetic and anti-inflammatory properties. Moringa too contains many amino acids, proteins and skin loving vitamins and minerals that will enhance longevity, boost immunity and strengthen bones and teeth. Moreover, Moringa's high content of vitamins E and C improves brain function and help normalize the functions of neurotransmitters such as serotonin, dopamine etc. in the brain, which play a key role in enhancing memory power and improving moods.
Drinking Miracle tea with Moringa and Cinnamon, will be an excellent food supplement that helps alleviate fatigue and reduce oxidative stress. It is best when this tea is brewed for 3 minutes for all the flavors and nutrients to be released for an enjoyable difference.
Benefits
Support mental health.
Help control sugar disorders.
Control blood lipid levels.
Restore liver enzymes to normal levels.
Anti-microbial and anti-bacterial properties.
Fight free radicals that cause damage to body organs.
Package
3 Boxes in 1 Pack (60Tea Bags)